Dance Teachers looking for work
Looking for work as a dance teacher? Post your résumé and advertise your services here with DTOL. It's free and only takes a minute.
Current jobseekers in United Kingdom.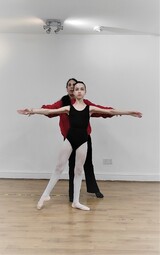 anna anna
northampton, England, United Kingdom

07501012536

Hello, I'm Anna, a professional ballet dancer trained in Classical Dance, who has performed on stage for 17 years as a freelancer. Having taught for over 20 years, I am seeking an opportunity to impart my knowledge to the younger generation. I am able to teach pre-pointe/pointe classes, ballet flexibility/stretching classes, a ballet class, Cechetti syllabus exam preparation, and help improve ballet technique. I am a freelance teacher and have developed my personal pedagogical method. If you are interested in my work, please email me at annawhiteballet@gmail.com
Nisha Lall
Sheffield, United Kingdom

07719 149 352

I am a qualified dance practitioner with 15 years experience. I offer online and in-person tuition in Bollywood, Bellydance, Salsa, Dance For Wellbeing & CPD & mentoring for dance teachers.

I also deliver workshops for events, festivals and celebrations.