Dance Teachers looking for work
Looking for work as a dance teacher? Post your résumé and advertise your services here with DTOL. It's free and only takes a minute.
Current jobseekers in Greece, India and United Kingdom.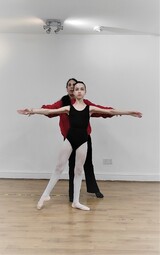 anna anna
northampton, England, United Kingdom

07501012536

Hello, I'm Anna, a professional ballet dancer trained in Classical Dance, who has performed on stage for 17 years as a freelancer. Having taught for over 20 years, I am seeking an opportunity to impart my knowledge to the younger generation. I am able to teach pre-pointe/pointe classes, ballet flexibility/stretching classes, a ballet class, Cechetti syllabus exam preparation, and help improve ballet technique. I am a freelance teacher and have developed my personal pedagogical method. If you are interested in my work, please email me at annawhiteballet@gmail.com
Avantika Vats
India

8929308816

Hola! I am Avantika Vats, an aspiring belly dancer from India who loves everything belly n Bollywood. I started to teach online 2 years ago and also gave belly dance and Bollywood dance workshops in MM dance academy, Spain. I know Spanish and hence looking for work in Spain. I have taught belly dance to all age groups ranging from 4-67 yrs old women.
Elena Dara
Athens, Khalandrion, Greece

+306936197567

I am a Latin & Ballroom Teacher certified by the IDTA (International Dance Teachers' Association), Fellowship Degree (Associate, Licentiate, Fellowship+ V.Waltz Licentiate in both Latin and Ballroom branches).
Lessons for both social and professional level
- Professional Examinations for IDTA (all levels)
-Examination Simulation
-Basic and High Leveled Mechanics
-Latin & Ballroom Dance Theory
-Social Dance (American Style Rhythm&Smooth, Salsa, Bachata, Disco, Hustle, Swing)
-Wedding Choreography